Enter the NESH Raffle for the UB Community
Welcome! This current raffle is exclusively for current Health Science students, residents and faculty of the University of Bridgeport and runs through Thursday September 27, 2018. If you entered this raffle earlier this year and are still part of the UB community – you will automatically be entered again. Spring Raffle Winners (below in red) are not eligible to win the same prize but will be entered to win any of the other prizes.
ONE ENTRY per person please!
There will be a total of 10 prizes awarded as follows:
One Grand Prize Drawing Winner will receive a Set of NESH Books by Drs. Herscu & Rothenberg:    SPRING WINNER: Gurneet K. Bawa    FALL WINNER: Elisabete Cruz 
* The Homeopathic Treatment of Children: Pediatric Constitutional Types by Paul Herscu ND, MPH
* Stramonium with an Introduction to Analysis using Cycles & Segments by Paul Herscu ND, MPH
* Provings Volume I and Volume II by Paul Herscu ND, MPH
* The A Cappella Singer Who Lost Her Voice & Other Stories from Natural Medicine by Amy Rothenberg ND
Two Drawing Winners will receive our new LARGE NESH Heavy Canvas Totebag: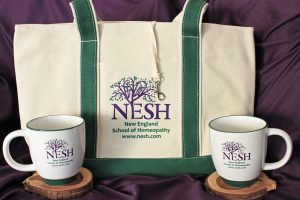 SPRING WINNERS: Marisa Houser AND Karen Tyson
FALL WINNERS:  Kara Cholewinski AND Ashlyn Zikmund

Three Drawing Winners will receive a NESH Ceramic Bistro Mug:
SPRING WINNERS: Chelsea Warren, Vanessa Rugeles Sepulveda AND Derek Reilly
Fall WINNERS: Darisa Espinal, Sarah Schindler, AND Meghan Gonick

Four Drawing Winners will receive Vol 8#1 of the New England Journal of Homeopathy focusing on Cycles & Segments:
SPRING WINNERS: Kara Cholewinski, Nancy Aboulmouna, Elisheva Neffinger, AND Katie Zinn
FALL WINNERS: Tyler Van Steenbergen, Sarah Daglis, Weronika Lewkowicz, AND Shiana Morton

Once you complete the raffle form below, you will receive your own Entry Identifier Number. We will then use randomresult.com to select the winners based on those numbers. You have until midnight on Thursday September 27th to enter. Prize winners will be selected and contacted directly by the end of the day on Friday September 28th. You will be able to pick up your prize on campus from Randall Block, our UBCNM Student Rep.
(Note: All fields below are required to qualify to enter drawing)
[contact-form-7 id="7898″ title="Contact form Raffle"]
Save
Save
Save
Save